rh
I am writing a series of 101 small changes that we can make to make the quality of our life better and build and lead a more happier life that is in tune with our heart and mind. These are small changes that I have made and am working on right now, so I know they are possible for anyone to do.
If you have not read previous posts, check out a few posts on the changes from the past:
101 changes: Change 104: Try New Food; Pomegranate
101 changes series: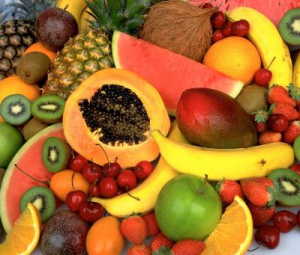 I am lazy occasionally to make special time for me to feel beautiful and relax. Another reason that I do not use many store bought beauty products is some of the products my skin is sensitive to it so I like natural way to get beauty as much as possible. I took a special course on how to use natural plant product for beauty treatment when I was in college. It has been awhile, so I forgot all about it until I found my hand written notebook recently and it had some good ideas that made me get started and pumped about using some of the tips.
How To Get Beautiful Natural Way: Tropical Fruits
I further did search on how to use natural raw fruits to make beauty regime that is easy to make, does not cost much and easy on my skin. Here are some of the ideas that may work for all women who want natural ways to make skin, nails or face better and beautiful.
1. Softer Skin With Papaya
Papaya has high skin regenerating antioxidant and Vitamin A which helps skin cell and making skin smooth and glowing.  To best use papaya for beauty treatment blend or mash 1/2 cup ripe papaya, 2 table spoon honey and mix it well. Place the puree over clean damp skin on face, hand or feet. Keep for 10 minutes and rinse it warm water and pat dry with soft towel. The mixture can stay in fridge for 1 week.
2. Use Coconut for Shiny and Long Hair
Creamy Coconut milk inside the green coconut has lot of  protein and fatty acid that helps the hair for growth and make it shine. It is instant conditioner of putting shine and life back in to your hair. Break open green coconut (hard part) and get creamy coconut milk from it. If you use canned coconut milk, make sure it is unsweetened before using it on hair. Warm the coconut milk for 30 seconds and massage it in hair and scalp with fingers. Leave it for 15 minutes and then shampoo as usual way. In Indian store you can buy coconut oil for hair and it is simply marvelous.
3. Banana for Double Duty on Skin and Hair
My kids love bananas so we always have some bananas on hand. Banana is rich on Potassium, protein and fatty acid like coconut so it is surely great for hair and as well as skin nourishment.  Mix mashed banana and 2 table spoon of honey and massage in to hair and scalp. Leave it for 10-12 minutes and rinse with shampoo as usual. For skin, use plain mashed banana for a facial peel and leave on for 5 minutes of so, before rinsing it with warm water.
4. Glow Your Skin With Kiwi
I love kiwi fruit but I admit, I do not buy it as often as I should. Now this tip gives me reason to buy these small fruit and eat some and use rest for beautifying my skin. Kiwi fruit are high on Vitamin C, it reduces skin discoloration and makes even tone on skin. Peel the brown skin from Kiwi fruit, add cut and peeled kiwi to blender, add 1 table spoon of extra virgin olive oil and blend it well. Massage the paste over the clean and dry skin. Leave on for 5 minutes and rinse it warm water. Doing twice a week for 1 month will make sure skin glow with radiance!
5. Get Rid Of Pores with Pineapple
Pineapple is great as skin softner as well cleaner. If your pores are visible like mine are, they are clogged with extra oil and dead skin. To reduce or get rid of pores is to mix 1/4 table spoon of fresh pineapple juice with your regular face wash. Use it on your pores daily to minimize the pores. For dry and hard patches of skin area such as elbow, knees and heel, use a thick slice of pineapple and use it as a sponge like to rub on your rough skin area to soften and refresh the skin.
6. Get Stronger nail with Mango
Mango is my favorite fruit and same goes for my whole family so finding any leftover mango for this treatment seems very tough however, I may just try that in season by hiding a mango for me. Take fresh ripe mango and 1 table spoon of extra virgin olive oil, add 3 tablespoon of white sugar until it becomes like a scrub consistency. Take a dab with small finer and rub it over each nail cuticle for minute or so. Rinse with warm water. Scrub will keep for 2 weeks in a fridge.
7. Strawberry for spa facial at home
Once I saw strawberry being used in spa facial and I thought why not to try it at home myself at much cheaper price and without having to drive anywhere. Did you know that some of the teenage acne products has strawberry as an ingredient? Strawberry has type of acid which helps troubled skin of teens with acne problem as well sun spots on adults too. Mash ripe strawberry with fork or blender, add 1 table spoon of sour cream to make a facial mask scrub. Gently massage on face or other troubled skin area, leave it for about 5-7 minutes. Rinse it with warm water.
Summary:
There are many fruits and vegetables can be used for beauty treatments such as peaches, potatoes, cucumber and more. I will have to write part 2 for more beauty from nature tips. You can get more ideas from Nature's Beauty Secrets: Recipes for Beauty Treatments from the World's Best Spas.
Image source: http://www.womenworld.org