One of the best thing about having a vegetarian and vegan thanksgiving is healthy and animal and specially turkey may thank you for not eating them. I am vegetarian since birth so it comes easy to me but even if you are occasional vegetarian or vegan, you can have a great, healthy and delicious food fiesta during thanksgiving.
Also check out:
101 Changes: Change 10: Eat Like Vegetarian
I am sure, these recipes will be loved by herbivore, carnivore, and omnivore alike.
Cranberry Chutney: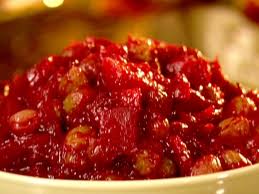 Ingredients:
1 tbsp. margarine or olive oil
2 ribs celery, finely chopped
1 small red onion, finely chopped
1 lb. (about 4 cups) fresh or frozen cranberries
½ cup packed light brown sugar,or Maple Syrup
2 tsp. ground cinnamon
2 tsp. finely grated fresh ginger (peel the skin off)
¼ tsp. ground allspice
1 green apple,  finely chopped
Direction:
Heat the sauce pan over medium heat, add margarine or olive oil. When margarine melts or oil gets hot, add celery and onion, and cook, stirring, until soft, about 10-12 minutes. Add cranberries, brown sugar, cinnamon, ginger, allspice, apple, and 1 cup water. Bring to a boil.
Keep stirring until cranberries gets mushy and release their juices, for 15 minutes or so. Reduce heat to medium-low, and cook, stirring often, until berries are tender and chutney is the consistency of thick jam, about 1 hour. You can grind the chutney to fine paste once cool or eat as it is for chunky taste.
Corn Chowder Soup
Ingredients:
1 medium to large butternut squash
2 tablespoons olive oil
1 large onion, finely chopped
1 celery stalk, finely diced
1 large sweet potato, peeled and diced
One 32-ounce carton vegetable broth or water
2 bay leaves
2 teaspoons cumin
1/2 teaspoon dried basil (can use fresh basil leaves0
1/2 teaspoon dried thyme (can use fresh thyme)
2 1/2 to 3 cups cooked fresh  corn kernels (about 3) or thawed frozen corn kernels
1 cup soy milk, or as needed
Salt and freshly ground pepper to taste
1/4 cup minced fresh cilantro, or more, to taste
Direction:
Slice the squash  into small dice. You can pre-bake squash to make cutting easier . Heat the oil in a soup pot. Once oil is hot, add onion and celery and sauté over medium heat until the onion is golden brown. Add the diced squash and diced sweet potato to pot. Add enough stock or water to cover all but about an inch of the vegetables. Bring to a simmer, then add the bay leaves and other seasonings. Simmer gently, covered, until the squash and potatoes are tender, about 25 to 30 minutes. Add cooked corn and soy milk to bring our thickness or chunkiness in the soup. Season with salt and pepper and simmer again for 15 minutes and serve hot.
I like to use potato masher to mash the big pieces a little while in pot. You can puree half soup if you like, just make sure you puree soup when it is cold. Hot soup never should be pureed unless you want to redecorate your kitchen later 😉
Stir in the finely chopped cilantro just before serving.This may also be cooked a day ahead and refrigerated, since its flavor develops nicely overnight.
Rice Pilaf with Corn and Walnuts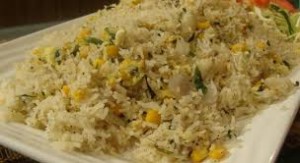 Image Source: neelscorner.com
Ingredients:
1 1/2 cups basmati or any long grain rice
1 vegetable bouillon cube, broth
1/4 cup roasted walnuts
2 tablespoons olive oil
1 large red onion, quartered and thinly sliced
2 cups cooked fresh or thawed frozen corn kernels
3 scallions, thinly sliced
1/4 cup minced fresh cilantro, or more, to taste
1 teaspoon cumin, or more, to taste
Salt and freshly ground pepper to taste
Directions:
Cook basmati rice in large pot of broth or with vegetable Bolivian in water. Put 2 cup water or broth or each cup of long grain rice. Cook until all water is absorbed. You can cook rice in rice cooker for easy cooking as well. Toast walnuts on oven or nonstick pan.  Set it aside. Heat the oil in the same pan. Add the onion and sauté over medium heat until golden. Stir in the corn kernels and continue to sauté until the onion begins to brown lightly. Stir the cooked rice into the corn mixture along with the scallions, chopped cilantro, and cumin. Season with salt and pepper, then stir in the toasted walnuts. Serve hot.
Spinach and Orange Salad: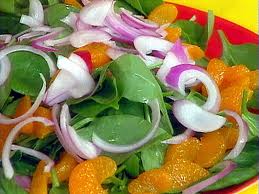 Image source: Food network
Ingredients
1 pack loose leaves baby spinach
2 cups thinly shredded red cabbage
1 medium red onion sliced thinly
3 small seedless oranges, such as clementine, peeled and sectioned
1/2 medium cucumber thinly sliced
1/4 cup toasted slivered almonds
2 tablespoons extra virgin olive oil, or as desired
1 1/2 tablespoons white balsamic or white wine vinegar, or to taste
Salt and freshly ground pepper to taste
Directions:
In large salad bowl, combine the spinach, cabbage, red onions, oranges, cucumber, and almonds in a serving bowl and toss together. Dress as desired with oil and vinegar, then season with salt and pepper. Mix gently and serve.
Coconut-Pumpkin Soup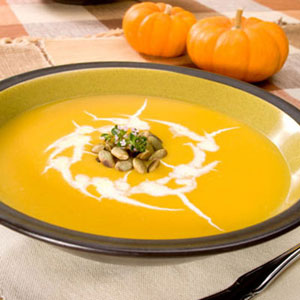 Image Source: Cookbook cover
Ingredients
2 medium carrots, chopped
1 medium green sweet pepper, seeded and chopped
1 medium onion, chopped
1 tablespoon vegetable oil
1 15 ounce can pumpkin
1 14 ounce can unsweetened light coconut milk
1 14 ounce can reduced-sodium chicken broth
2 tablespoons packed brown sugar
1 medium fresh jalapeno chile pepper, seeded and finely chopped
3/4 teaspoon salt
1/2 teaspoon ground ginger
2 tablespoons snipped fresh cilantro or parsley
Directions
In a large saucepan, cook carrots, sweet pepper, and onion in hot oil over medium heat about 5 minutes or until vegetables are nearly tender. In a large bowl, combine pumpkin, coconut milk, and broth. Stir in brown sugar, jalapeno pepper, salt, and ginger. Stir pumpkin mixture into cooked carrot mixture.  Bring to boiling; reduce heat. Simmer, uncovered, about 10 minutes or until heated through, stirring frequently. Before serving, stir in cilantro.
Marbled Chocolate-Pumpkin Brownies
Source: Pumpkin Recipes
Ingredients
3 ounces cream cheese, softened
1 tablespoon margarine, softened
1/2 cup sugar or maple syrup
egg replacer powder for 5 eggs
1 cup canned pumpkin
1 teaspoon vanilla
1/2 teaspoon ground cinnamon
1/4 teaspoon ground ginger1
tablespoon all-purpose flour
1 1/4 cups all-purpose flour
3/4 teaspoon baking powder
1/2 teaspoon salt
6 ounces unsweetened chocolate, chopped
3/4 cup butter, cut up
2 1/4 cups sugar
1/4 cup milk
2 teaspoons vanilla
3/4 cup coarsely chopped walnuts, toasted (optional)
Direction:
Preheat oven to 325 degrees F. Line a baking pan with oil. In a medium mixing bowl beat cream cheese and the 1 tablespoon butter with an electric mixer on medium to high speed for 30 seconds. Add the 1/2 cup sugar. Beat until well combined, scraping sides of bowl occasionally. Beat in 1 egg replacer, the pumpkin, 1 teaspoon vanilla, the cinnamon, and ginger until combined. Stir in the 1 tablespoon flour. Set aside.
In a small bowl stir together the 1-1/4 cups flour, the baking powder, and salt; set aside. In a large saucepan combine the chocolate and 3/4 cup butter. Cook and stir over low heat until melted and smooth. Remove from heat. Gradually add the 2-1/4 cups sugar, beating with an electric mixer on low speed just until combined. Add the additional 4 egg replacer powder, . Beat in milk and the 2 teaspoons vanilla. Gradually beat in flour mixture just until combined.
Spread chocolate mixture evenly in the prepared pan. Spoon cream cheese mixture in several mounds on top of the chocolate batter. Using a narrow metal spatula, gently swirl the cream cheese mixture into the chocolate batter. If desired, sprinkle with walnuts. Bake about 60 minutes or until center is just set when pan is gently shaken. Cool in pan on a wire rack. Use foil to lift uncut brownies out of pan. Cut into brownies.
Also check out: How to Make Baba Ganoush: Eggplant Dip Recipe
Eat Healthy, Stay Healthy and Enjoy!
Recipes adopted from Zengirl, Veg Kitchen, Pumpkin Recipes