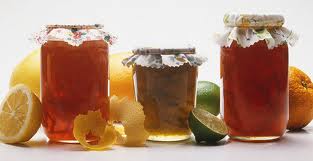 As long as human being need food to survive, there has been ways to preserve food for longer period of time. Modern refrigeration is one part of making food last much longer.
Why anyone want to preserve food?
One can stretch his or her budget much longer, if food last longer.
If you have home garden or buy it from farmer's market, you can preserve seasonal food for later use. Preserving food fresh is healthier option when used fresh food.
One can retain the nutritional value of food by preserving it right.
If you preserve your own food, it will be chemical and toxin free.
It will be less processed if home made, making it much more healthy. For example drying food does not take away its nutrients.
It is cheaper to do it at home, compared to buy preserved food. It is easy to do.
You can make wide variety of preserved food such as jellys, jams and sun dried tomatoes.
Ways to Preserve Food:
There are several ways to preserve food and here are some of popular and easy ways to do it at home for anyone with little skill. People have been preserving food before fridge was available and here are some ways we can preserve food and save money and our health at the same time.
1. Canning
Canning is one of the oldest and traditional way to preserve any type of food. You will need to heat up the food and jar both, killing germs. Then cooling and sealing the food in jar for later use. There are canning tools and canning methods to follow properly. It can be time consuming at the start but it is well worth it.
Video of Canning Procedure:
2. Freezing
One of the easiest way to preserve food is to freeze it. Once you cook or boil the vegetables or other food it can be freeze it for later use. Many people batch cook and divide food in to small trays to eat when coming from work on weekdays. Not all food can be frozen, so be careful of it. Generally speaking, egg and milk products are not suitable for freezing.
3. Drying Food:
One can dry food in sun or in oven to last longer. There are also drying racks one can buy to dry fruits, tomatoes and other vegetables. Other popular ways to dry food is by baking, sun drying, dehydrating, air drying and smoking the food.
4. Vacume sealing
There is also method of vacuum sealing cooked food in glass jars or plastic bags via using vacuum sealer product. There are several type available in market. In this technique, air is removed from the food, hence making it lasting longer as air is one way, food get mold or get bad.
5. Other ways to preserve food:
Long time reader and blog friendBetsy suggested a additional way to preserve food so I am adding it here (edit) . Thanks Betsy. Other ways of preserving food include smoking (good for meat and tomatoes) and fermenting (for instance Sauerkraut).
How do you preserve food?
Check out recipe and food related posts;
How to Make Best Ever Chai-Tea at Home
Upgrading Inexpensive Food In to Gourmet Meal: Ramen Noodle Hacks
Vegetarian Thanksgiving: Vegan and Vegetarian Recipes
How To Make Baba Ganoush: Eggplant Recipe
Image Source: nahysa.blogspot.com