As we are doing no spend month challenge, I am looking for ways to eat cheaply without losing quality of food and health. Many of the cheap food will include rice, beans, and also instant ramen noodles. Eating while saving money, does not have be dull and boring, otherwise we will not continue to save or eat healthy food. While, I have tried some ramen noodle hacks successfully and some not so successfully in kitchen, here are some of them that I have tried successfully by myself or learned from other creative cooks. Hope you enjoy it.
Ramen Noodles History:
Instant noodle were first marketed in Taiwan, which was under Japanese regime in late 1950s.In early 1970's Japanese Company called Nissin introduced "cup Noodles", which you can still buy at grocery store, which comes in waterproof Styrofoam cup, and all one has to add is boiled or warm water for noodles to be cooked and ready to eat in no time.
Instant noodle is one of the major inexpensive food, eaten in many countries, specially popular with not so rich, college students who can eat cheap and quickly make these noodles for their busy college life. There has been said, that about 95 billion people in world eat some type of instant noodles. Top Noodle consuming countries are China, Indonesia, Japan, and south Koreans along with many South Asian Countries such as India too.
Instant noodle have been criticized for low protein, vitamins and fiber while being rich in carbohydrates. One can add fibrous veggies with vitamins to make it much rich and healthy in nutrients.
Maggie Noodle History: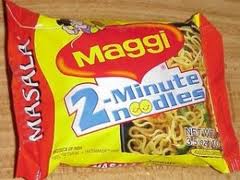 Maggi noodles is a brand of instant noodles manufactured by Nestlé and popular in India, Pakistan, Nepal, Malaysia, South Africa, Brazil and Australia along with a few more countries. Ramen has started new noodles made out of "atta" to use non-refined flour in making these noodles for new health conscious people. In India, they are advertised as a quick snacks, making it under 2 minutes making easier of busy moms to cook snack or mini meals for kids. Maggie noodles comes in many vegetarian and non vegetarian flavors such as curry, daal sambhar, atta, tomato, masala and more. One can buy these Maggie noodles in USA and Canada in Indian or Asian Stores.
As a Vegetarian and Indian we do lot of rice and daal (lentils) and beans along with fresh veggies stews.  While Ramen noodle is not get award for being health food, it is inexpensive, quick and one can make it healthy by adding veggies and nuts in it. Here are some Ramen Noodle hacks.
Top Instant Ramen Noodle Hacks:
Since I am vegetarian, I am sharing vegetarian hacks that I know and have used successfully in kitchen. Ramen Noodles have come a long way in US and I have eaten a lot during my college years. Now as a parent, my taste have changed and I make ramen noodles with different way to make more fun gourmet version will feel like grown up.
Adding Veggies: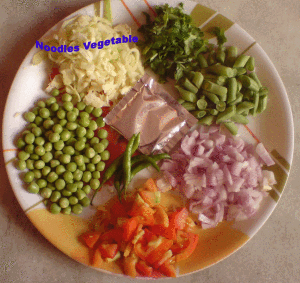 Image source: Pax21
Adding, red onions, green spinach, Thinly sliced cabbage, lettuce, Scallion, will do wonder. Once I put home grown potato because my son wanted to try it, and it worked out so well.
I have tried also broccoli, carrots, cauliflower, sweet peas, corn, and other veggies in the noodle. Some vegetable may need to be pre-cooked before as instant noodle cooks quicker.
One can add frozen or boiled veggies inside the Ramen noodle too.
Add Sauces and Condiments
In addition to vegetables, I like to use my own spices, sauce or condiment with Ramen noodle. You can try curry power, ginger, garlic paste, soya sauce, chili sauce, miso paste, bean paste (from Chinese or Japanese store), African Harrisa paste, Garam Masala and Emli sauce  (Indian Store)
Other Cooking Suggestions:
I have made Vegetarian Pad Thai with Ramen Noodle instead of Thin Rice noodle and while it looks different, it taste wonderful.
Make Chinese sweet and sour chow mien or low-mien with Ramen noodle. You can use pineapple chucks or pineapple for sweet ingredient.
Make Spaghetti with sauce and wheat balls with Ramen Noodles.
Make a cheesy, noodle with cheese and tomato sauce.
Instead of Mac and Cheese with Macroni Pasta, Make Ramen and cheese for kids.
Make Ramen Veggie Primevera, Ramen Fettuccine, or Ramen with extra virgin olive oil and garlic to make simple pasta dish with instant noodles.
 If you make vegetarian Shepard pie, make it with Ramen noodle instead.
I have also make Green spinach salad with walnuts, and broken pieces of ramen noodles (extra crunchiness) with red wine vinaigrette dressing.
 You can make Instant noodle Upma, and Instant Noodle Cutlet recipes. For those who want to know how to make cutlet see here Noodle cutlet. I will have to make Ramen Upma recipe as below;
Ramen Noodle Upma:
Ingredients:
Ramen Noodle,
Cashew nuts,
1 chopped red onion,
peanut oil 2 table spoon,
2 small red potatoes,
1 yellow bell pepper,
1 cup frozen or fresh peas
3 Curry Leaves
1 Tsp Mustard seeds, Urud Daal (Optional)
Lemon Juice
1/2 cup chopped Cilantro
If you do not use Instant noodle spice, add salt, black pepper to taste.
Maggie Noodle (2 packs) or any instant noodles such as Ramen
Recipe for Maggie Upma:
Heat Pan on low to medium heat. Add oil. When oil is heated add curry leaves, mustard and urad daal.
After mustard seeds splutters and get red, add chopped cashews and stir it for 2 minutes until brown. Add chopped red onion, yellow bell pepper, peas, red potatoes. Chopped all small to cook quicker as in stir fried veggies or you can boil veggies prior to it and add it with noodle.
Once veggies are cooked and tender, add ramen noodle (I usually break it in smaller pieces) and add water, spices as needed. Most instant noodle should be cooked in 2-5 minutes. Add lemon juice and thinly chopped cilantro for garnish and enjoy while it is hot.
Final Thoughts:
You can use Ramen noodle in any place you would pasta, rice or Chinese/Japanese noodle to make a new recipe instantly that makes it grown up gourmet meals in minute. Ramen noodle can be used to make cheesy pasta dish, salad, soup, or simple dry no sauce meal such as chow mien. How do you cook Ramen Noodle?
Check out: Vegetarian Thanksgiving Recipes