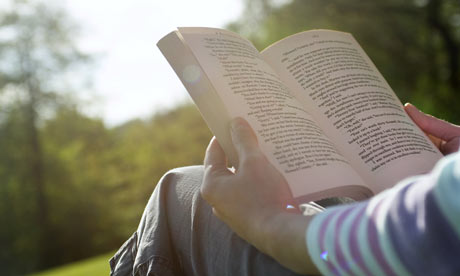 I am writing a series of 101 small changes that we can make to make the quality of our life better and build and lead a more happier life that is in tune with our heart and mind. These are small changes that I have made and am working on right now, so I know they are possible for anyone to do.
If you have not read previous posts, check out a few posts on the changes from the past:
101 changes: Change 1- Reduce Drinking Soda
101 changes: Change 2: Getting to email Zen
101 changes: Change 3: Slow down- Slow blogging movement
101 changes: Change 4 – Plant something
101 changes: Change 5 – Smile when you wake up
101 changes: Change 6:: Read a book – Benefits of reading
101 changes: Change 7 – Watch less Television and Be more productive
101 changes: Change 8 – Stretch your comfort zone
101 changes: Change 9:  Drink to your health- Benefits of Drinking Tea
101 changes: Change 10: Bring out the artist in You AKA be creative
——————————————————————————————————-
Many of us are readers without us knowing it, we read emails, news, blogs, other information sites, magazines, work related and school related books and magazines, novels and other type of reading activities such as reading to your child and so on. Reading a book enhances our imagination and our mind.
With the popularity of internet, video games, movies, TV and other online social, media has put traditional reading in the back seat. There are so many benefits to reading the traditional way and I will show why you should read more books, both fictional and non-fictional, technical and for fun.
Click here to know about my list of classic books that everyone should read at least once and 8 kids books that everyone should read in our life.
Some of the top bestselling books are great way to start reading, exploring and learning at the same time.
I have been a book worm since I was a kid and love reading all types of books. There are many aspects of reading that provide many benefits to us. It does not matter what type of a book you read, there is a book for all of our interests. From
comic books,
picture books,
drama,
humorous books,
romance novels,
historical books,
how to books,
technical books,
science fictions books,
famous biographies,
poems,
haiku,
Joke books,
ebooks,
travel books and much more. There is something for every stage of readers;
A few of benefits for reading:
It improves your thinking: By reading in general, people tend to improve their analytical thinking and exercise the muscles in their mind. There have been studies done to show that reading improves your mind.
Improves your speech and vocabulary: There is no doubt, the more diverse and varied books that you read, you will improve your vocabulary with words that we may not generally use or hear in our daily life.
It improves your writing: It may seem like a surprise to hear that reading can improve your writing but it is true. If it can improve your mind by thinking more analytically, and improve your vocabulary, it is bound to improve your writing as well.  That maybe why most Language classes made us read books. Great writers are amazing, they can show moving pictures to words that are floating around, making us visualize the characters, feel their feelings and emotions and all that will pass on to you, the reader, especially when you write after reading a master piece book.
Glimpse in to Past: By reading great classic, we can go back in to the past. For example, when we read Pride and Prejudice we can see Austen's world and culture around that time, how people lived and talked and what was normal, while living in the present.
Glimpse in to a possible future: When we read books like Nineteen Eighty-Four we can foresee a possible future and hopefully we can take steps to avoid some of the worse situations by correcting the way we do things now.
It improves focus and memory: I am very bad with people's name and driving directions and yet, I find I remember things from my favorite books, the characters all so well. One of the reason being is that unlike the small fragments of issues, a book gives a COMPLETE story which makes focusing easy and improve your memory, especially if the book is engaging.
You can travel around the world from your couch: No need to pack or get a plane ticket, by reading books that are set in different countries, cities, we can learn and virtually visit other places we may not otherwise get a chance to.
Learning is portable: You can take your book or e-reader anywhere as it is portable, be it doctor or dentist's office, beach or in plane ride. Learning continues.
Can change your life: Have you ever read a book, that completely change the way you look at the world and those who are around you? It can make you a better person, learn a new skill, or give you hope. Not all books are created equal, but there are a few gems that just might change your life for better.
Most time books are better than Movies: As an avid reader and an avid movie watcher, I know 99% of the times books are always better than the movies. Take the example of the Harry Potter book series, movies leave so many things out as it is hard to put everything in 3 hours. Sometimes so much is omitted that it makes it confusing to watch a movie based on a book. Some movies are well made though such as North & South TV series by Elizabeth Gaskell So, next time if you find some free time, pick up a good book to read and go on a time travel journey and learn something you always wanted to.
Some great books to start reading this year, if you have not already done it:
The Girl with the Dragon Tattoo
Eat, Pray, Love: One Woman's Search for Everything Across Italy, India and Indonesia
Outliers: The Story of Success
The Help : Novel
Do you love reading? What benefits do you think book reading gives you? Please share. Image source: Guardian.co.uk